For pore size, fine lines of rest (smoker's lines), acne scars, and overall texture changes on the skin, resurfacing procedures are the best treatments. There are many options for this, and figuring out which one is right for you is primarily determined by age, pigment changes, and how much downtime you can manage.
I think of these procedures as small, medium, and large. As you go "larger," downtime goes up, but the number of treatments needed to get the ultimate desired effect goes down. The small procedure is microneedling. This device is not a true laser, and no heat is involved. Tiny needles cause varying depths of damage. Pain is minimal and true downtime is only 12 hours. The face is very red immediately following the procedure, but 12 hours later makeup can be applied and normal activities resumed. There can be areas of bruising, but swelling is rare. I love this treatment for patients with minimal fine lines and pores just looking to build more collagen and fight the early signs of ageing. It is also great for melasma, as the lack of heat minimizes risk of rebounding pigment. This procedure can be done with or without PRP (Platelet Rich Plasma). The addition of PRP can maximize collagen production and reduce downtime. We recommend a series of 3 microneedling treatments.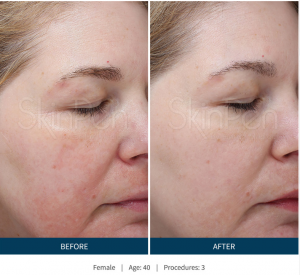 The "medium" procedure is Halo. This laser is best for patients with a little deeper lines or more pigment changes on the skin. It is a non-ablative procedure, meaning the zones of damage are heat only instead of breaking the skin. At the same time, a chemical peel like laser is applied higher in the skin. This allows for much faster healing than previous non-ablative laser technologies, as well as more brightening and pigment reduction. Because heat is also involved, more tightening occurs than with microneedling. Down time is 3-5 days, with the first few days consisting of redness and swelling and the last few days consisting of a fine peeling. If this procedure is performed on a Thursday or Friday, most patients feel comfortable returning to work Monday. We recommend 2-3 Halo treatments, although one per year can be used for maintenance.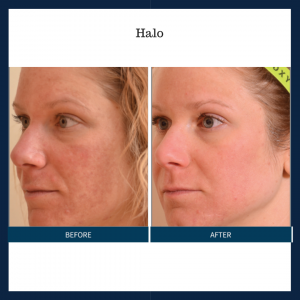 The "large" procedure in this category is the Sciton Profractional (ProFrac). I consider this a one-and-done for most patients, although for areas with more significant collagen changes or scars, additional targeted treatments can be added. This is an ablative procedure utilizing erbium to fractionally damage the skin. It is best for patients with deeper lines or those who want to take the downtime once rather than a series of treatments. Downtime is 5-7 days, and is similar to Halo but involves a few days with pinpoint bleeding and more prolonged redness. There is more heat, so there also tends to be more swelling and therefore more tightening.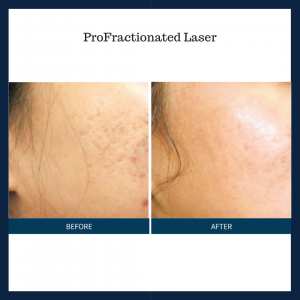 We can also combine Halo and ProFrac in a hybrid, where the entire face is treated with Halo, and then areas of deeper damage around the mouth or eyes are also treated with ProFrac. This is great for patients who want the brightening of Halo, but have deeper lines around the mouth or eyes and would rather take just 1 downtime.
While all of these treatments can provide some tightening, they are primarily for smoothing. Another category of fractionated treatment, radiofrequency microneedling (Morpheus8), provides more tightening with a side of smoothing. It is great for treating jowls and neck laxity. There is less of a surface change, but more heat deeper in the skin. Therefore the downtime is typically redness with mild swelling for 2-3 days, although side effects vary by patient.
Skincare can be added to all of these procedures to minimize downtime and maximize results. Brightening treatments can be applied starting 2 weeks prior for optimal pigment correction (Lytera, Even, or hydroquinone). Alastin's skin nectar can be used 2 weeks before the treatment to prepare the skin for more tightening, and to help the skin heal faster. It can also be used post procedure for additional improvement. Maintaining a strong skin care regimen following your procedure will help protect your investment! Daily sunscreen is always a must, but retinol, antioxidants, and growth factors can be added to optimize your skin's health and appearance.